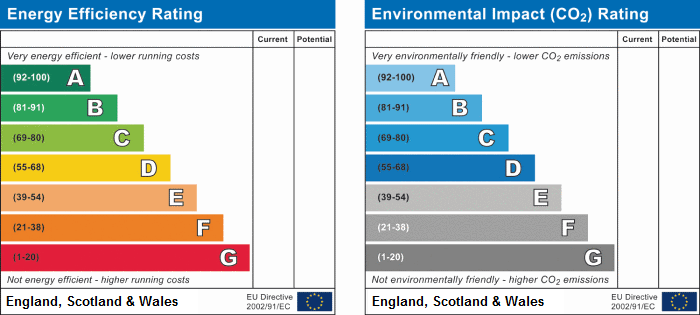 Energy Performance Certificates (EPC's) are a legal requirement whenever a property is advertised for sale or rent.
They must be carried out by a qualified Energy Assessor who is a member of an appropriate Accreditation Scheme.
The EPC is an inspection of a property with a view to Energy Efficiency and takes into account the construction of the property, levels of insulation, the type of hot water, heating and controls that are installed, the window construction and age, the type of lighting installed, etc etc.
The property is then given an Energy Rating and the report includes recommendations for improvements that could be carried out to save energy in the future.
From 1st April 2018 (for new tenancies), or from 1st April 2020 (for existing tenancies) a new requirement has been introduced by Government for any rented property (including residential) to achieve a minimum of an EPC E rating.
Limited exemptions from this restriction are applicable for some properties legally excluded from EPC requirements, however, failure to comply with the regulations could incur a fine of up to £5000, as well as enforcement action.
Jennifer
Building Survey, Manchester
Got in touch very quickly, sent out information as to the service he provided. Dad (who's a surveyor) said his survey was the best for housing he'd seen. Really comprehensive and even I could understand the issues! The service was excellent and the price very reasonable. Professional and really helpful. Answered extra questions I had once I'd reviewed the survey.
Craig
Home Buyer Survey, Levenshulme
We needed a building survey done for our future home. As we were in quite a tight spot for time we needed the report turning around quickly. Neil was really communicative, helpful, and accommodating in booking in the survey and completing the report for us. The report was excellent. It was obvious that Neil had done a thorough job, and as a first-time buyer with limited experience on houses, I found it really useful and informative. Fully recommended.
Natalie
Building Survey, Stockport, Cheshire
I contacted Neil to ask if he could provide a survey for a property ASAP, and we're very happy with the service we received. Neil was highly responsive and provided us with a thorough report within three days of my request, all for a very reasonable cost. Would definitely recommend.
Nicola
Surveyor, Bolton, Lancashire
As other reviewers have said, Neil was very quick to respond with what he could offer. Survey was carried out quickly and his report also came back within a few days. The survey was very thorough and meant I could get several bits of repair work done within my offer price. Highly recommend!